Custom Printed Puzzles Add Your Own Image, Photo, logo. **Free Gift Box**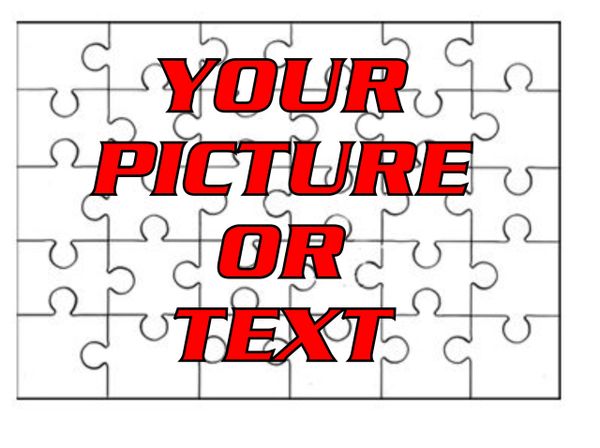 Custom Printed Puzzles Add Your Own Image, Photo, logo. **Free Gift Box**
Custom Printed Jigsaw Puzzles
7.5" x 9.5" 30 Piece
8" x 10" 48 Piece
7.5" x 9.5" 80 Piece

10.1" x 13.5" 252 Piece
Plus free gift box
We transfer your photos, logo, design, text or anything to colorful, personalized Jigsaw puzzle.
Jigsaw puzzles are also great for company logos or business advertisements, Birthday and Christmas gifts.
New Made To Order
puzzles give you the freedom to create durable and mountable wall art out of your favorite photos and images. Not only can they be set with glue, framed and hung, but they can also be utilized for fun and personalized games! Another creative option is to attach magnets to the back and display proudly on your refrigerator or even create interactive learning puzzles for your children to enjoy! Great for personalized gifts or just for crafty fun!
After you make your purchase you will receive an email from us so you can include

High resolution photo or several photos, Logo, Design etc..

ext you would like above and/or below photo.
Photos can be printed horizontal or vertical, if preference isn't stated we will select what's best for the image submitted.
Questions?
If you have a problem with your order, contact us immediately and we will take care of it. Satisfaction guaranteed!
Return Policies:
May be returned if unused with in 14 days. Seller not responsible for buyer mistakes when applying decals.
Reviews