2 Military Dog Tags - Custom Embossed Stainless - GI Identification w/ Silencers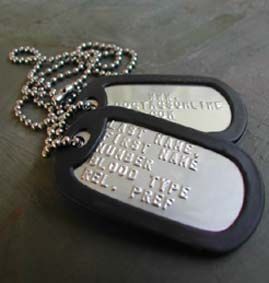 2 Military Dog Tags - Custom Embossed Stainless - GI Identification w/ Silencers
2 Military Dog Tags - Custom Embossed Stainless - GI Identification w/ Silencers
The Dog Tag set includes:
2 Stainless Steel Custom Embossed Military Dog Tags - 2 Colors to Choose from (Dull & Brass)
2 Stainless Steel Ball Chains (1 - 24" Inch and 1 - 4.5" Inch)
2 Dog Tag Silencers - Choose from (Black, Woodland camo, Red camo, Army Combat, Marine camo, Urban camo, Pink camo, Red & Pink)
Made and shipped by a father/son (both veterans) owned company from the U.S.
HOW TO ORDER
*** Once you have made your purchase, return to this listing and
You will be taken to a form to fill out with your instructions. ***
PLEASE DO NOT LEAVE INSTRUCTIONS ON PAYPAL!
WE DO NOT ALWAYS GET ALL OF THE INFORMATION YOU LEAVE

All of our Dog Tags come with 5 lines of text. Each Tag may have different text.

All lines have 15 Characters including spaces. See Photo above for template.
We suggest only using 14 spaces. When you put the silencer on the tag, it covers up part of the 1st or 15th character.


The Available Characters are:
A B C D E F G H I J K L M N O P Q R S T U V W X Y Z
0 1 2 3 4 5 6 7 8 9
, . - / ( ) @ * + ! ? " : '

Questions?
If you have a problem with your order, contact us immediately and we will take care of it. Satisfaction guaranteed!
Reviews